BUY MICROSOFT OFFICE 2021 HOME AND STUDENT FOR WINDOWS
If you're a student or parent of a student, you know that Microsoft office 2021 home and student is an essential part of the educational experience. And while buy Microsoft Office 2021 doesn't have any major changes from Office 2016, it does include some new and improved features, as well as support for the latest versions of Windows and macOS. One of the biggest changes in Office 2021 is the addition of a dark mode. This mode changes the color scheme of the entire suite of apps to a dark theme, which can be easier on the eyes when working for long periods of time. Another new feature is the ability to insert 3D objects into Word documents. This can be helpful for creating presentations or adding a bit of flair to reports. If you're using Office on a Mac, you'll also appreciate the new support for Touch Bar. This allows you to quickly access common commands without having to use the mouse. Overall, Office 2021 is a solid update to an already essential piece of software. If you're a student or parent of a student, it's definitely worth the upgrade.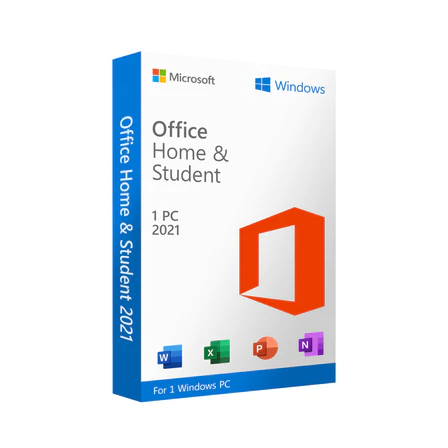 In this Microsoft office 2021 home and student, you will find classic Office apps including Word, Excel, and PowerPoint for Windows 10 and Windows 11 .  Once purchase office 2021 home and student then you can enable all Office premium features which help you to grow your working performance.
Office 2021 home and student Includes:
MS Word: Word in Microsoft Office Home & Student 2021, you'll be able to stay even more productive. It has even more learning features and tools, which is ideal if you have an essay due soon. It has captions, audio descriptions, and text-to-speech; these accessibility enhancements make it even easier to use.
Excel:  If you work with complex data, you'll appreciate Excel's enhancements. There are new chart types, making it even easier to gain insights, spot trends, and use your data to clearly display everything. Do you want to see how far you've come? The TimeLine chart type allows you to display a timeline of events in chronological order.
PowerPoint: Zoom is a new feature in PowerPoint that allows you to tell a story in your presentations. It's more flexible to use with interactive summary slides without going off-narrative. Your audience will remain attentive, and you will have everything you require in front of you.
How to Redeem Microsoft office 2021 home and student?
Once complete your purchase you will get a unique office 2021 home & student license key at your email.  After receiving a license key visit: http://microsoft.com/redeem  or setup.office.com then enter your license key to redeem in your account.
What is included in this purchase?
Microsoft office 2021 home and student product key
Lifetimes support