OFFICE 2019 HOME & BUSINESS FOR MAC
By purchasing Microsoft Office 2019 Home & Business for MAC, you will receive a 100% Original Microsoft product key license for a lifetime. that can be activated directly on the official Microsoft website within minutes of purchasing. All instructions are provided for easy activation.
Instant Download – Office 2019 Home & Business – Mac This license is 100% authentic Microsoft products. You can be sure of your purchase with our SSL-encrypted payment method. You will receive your activation license via email within minutes of purchasing. The Microsoft software download link is also included. All instructions are provided for easy activation.
Office 2019 Home and Business is the ideal solution for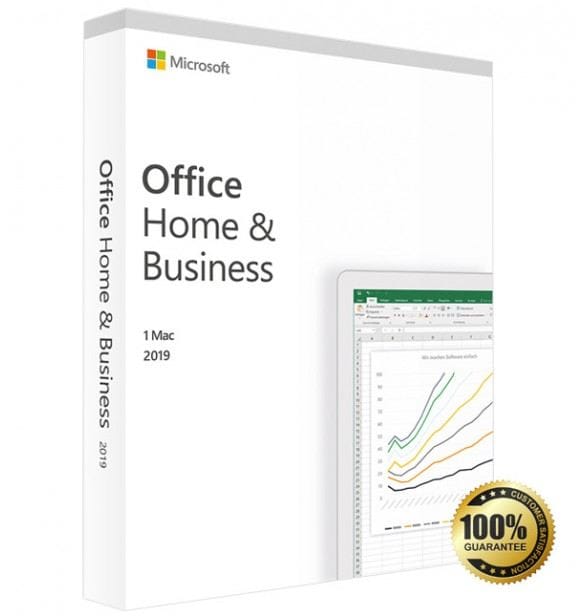 Apple users. It includes all of the Office applications and functions. You will not need an Internet connection to use Office 2019 Home and Business on MAC. You will get your product immediately: you will receive the instructions for installation and your license via e-mail right away after purchasing. To protect your device, we recommend that you install an Antivirus. You can click here to choose your Antivirus.
What happens if your MAC is formatted or you switch to a different one?

 

(lifetime license)
Office 2019 Home & Business MAC will be activated through your private or company email. It has lifetime validity and is not a subscription service. Office 2019 Home & Business MAC will remain yours forever. You will also be able enjoy all the benefits of a genuine Microsoft license that you can use on any device or computer, regardless of whether you format it or move to a new one. It can be used on multiple devices, but it must first be deactivated from any other devices.
Below are the applications that come with Office 2019 Home & Business.
* Excel 2019, is a program that provides a wider range of professional functions, including the ability to create financial tables, tax filing data, product databases and Excel tables. The program is fully compatible with all CSV files and has been updated with new graphics and mathematical functions.
* Word 2019, The Word 2019 interface has been improved and enhanced. Any type of document can be created, whether for business or personal use. You can now create any type of document, personal or business, using built-in voice recognition.
PowerPoint 2019: The most popular presentation software on market, with enhanced performance. This new version allows you to use Ultra HD images, zoom slides and images directly, and resize graphic elements, without needing to export them. These functions, and many others, will greatly simplify your work.
Outlook 2019: Having access to up-to-date customer and partner information is essential for business offices. An exchange server allows you to manage contacts and appointments quickly. You can also create and manage multiple accounts.
Are you a reseller?
We'll send you a price list if you are a reseller. Let's get together and contact us!
You can receive the product via email in seconds, thus avoiding shipping physical goods.
1 Original Microsoft Activation Code for Office 2019, Home & Business for Mac, valid for 1 MAC (Product key)

Installation guide for quick and simple installation

Technical support available at no cost

– Invoice
These are also available in our store: Windows Operating Systems- Microsoft Office Suite – Antivirus
System requirements
| | |
| --- | --- |
| Platform | MAC |
| Supported Operating Systems | From MacOS 10.14 up to the latest version |
| Processor | Intel processor |
| RAM | 4 GB RAM or higher |
| Hard disk | 10 GB |
| For Outlook | Microphone for speech recognition |
| Browser | The current version of Internet Explorer, Safari, Chrome or Firefox |
| Display Resolution | 1280 x 800  or higher |